5 Dog Ears is comprised of five experienced, Vancouver-based musicians with a wide range of musical backgrounds and influences.
The band plays a mixture of Jazz Standards, Swing, R & B and Blues.
June 8th: Jim Hopson & Jason de Couto
Known for his baby-faced charm and old-world charisma, Jim's velvety-smooth trombone & vocal stylings run the gamut from heart-rending to show-stopping! Jim is a prolific composer/arranger, JUNO Award nominated session player, and one of BC's most in-demand working musicians.
Jason de Couto is a Vancouver based musician focused primarily on piano and keyboards. He works with a variety of musicians, ensembles, and multi-disciplinary artists in an array of styles and genres. He holds degrees from UBC, SFU and Capilano University, and is currently also a music teacher working in the Richmond and Vancouver School Districts.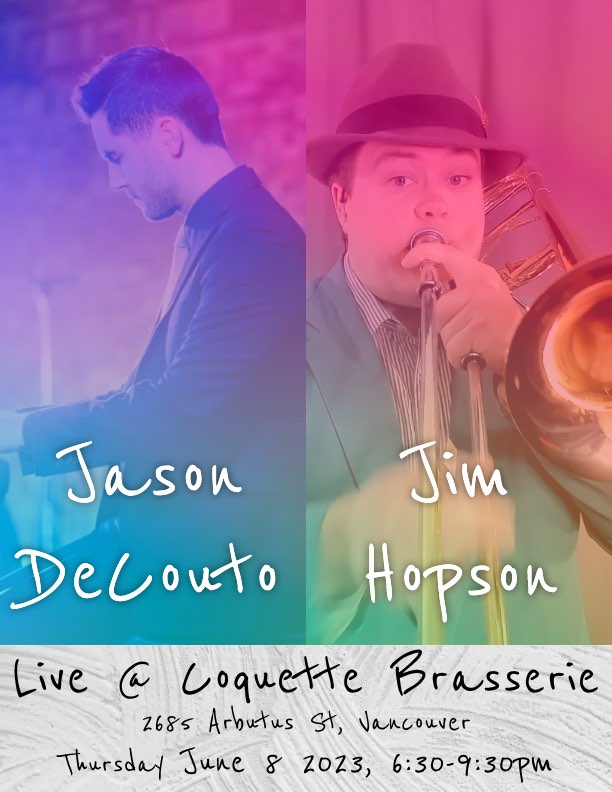 June 15th: Lesley Branton Trio
The Lesley Branton Trio brings fresh interpretations of jazz standards within an acoustic framework.
Based in Vancouver, this trio features Lesley Branton (vocals), Bill Coon (guitar) and Steve Smith (bass). Juno nominated artist Bill Coon is one of Canada's most highly respected musicians and is winner of the 2009 National Jazz Awards, 'Guitarist of the Year'. Bassist/Composer/Bandleader Steve Smith has had the privilege and the honour of recording with some of the best musicians in New York and Vancouver. The Lesley Branton Trio plays a variety of jazz standards and Bossa Novas which are as diverse as their audiences