September 21st: MacKinley Bourne
MacKinley Bourne is a 19-year-old singer-songwriter from Vancouver.
Since the young age of 9, MacKinley has sung various national anthems at international rugby games in various languages. She has been the lead role in many musicals, such as Tanya in Mamma Mia! and Elle Woods in Legally Blonde. She has been in several country, rock and pop bands. In MacKinley's free time, she likes to take her guitar and busk on the streets of Vancouver. She also has begun to perform at different restaurants and pubs. Along with the guitar, she plays the piano and writes her own music. In August of 2023, she released her first EP on all platforms called Afriad of Life. In hopes of creating more music, MacKinley attends Berklee College of Music in Boston, wanting to get her songwriting and music therapy degree.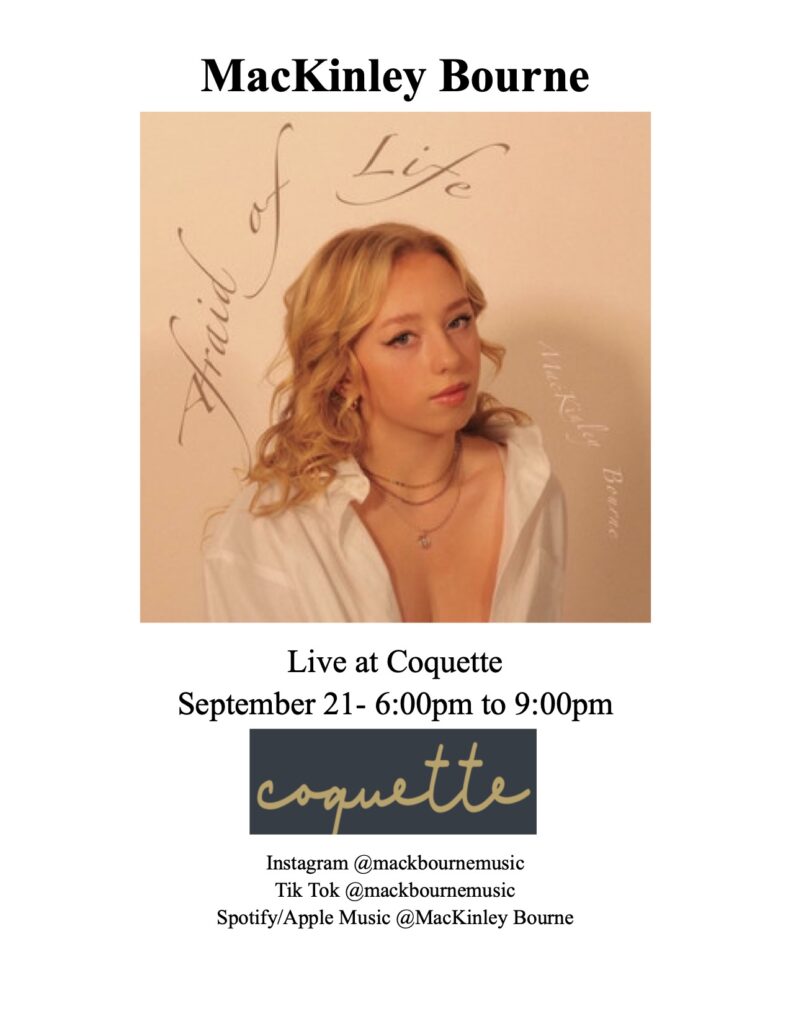 October 5th: The Lesley Branton Trio
The Lesley Branton Trio brings fresh interpretations of jazz standards within an acoustic framework.
Based in Vancouver, this trio features Lesley Branton (vocals), Tamami Maitland (piano) and Emilio Suarez (bass). Tamami has an extensive jazz education from Berklee College of Music (MA, USA) and Capilano University. She has developed her unique musical style that blends various genres such as jazz, pop, R&B, and soul. Musician and composer, Emilio completed his studies and was awarded his bachelor of music in Jazz Studies at Capilano University. Emilio's style is a dynamic range from jazz and bebop to contemporary, classical, and pop. The Lesley Branton Trio plays a variety of jazz standards and Bossa Novas which are as diverse as their audiences.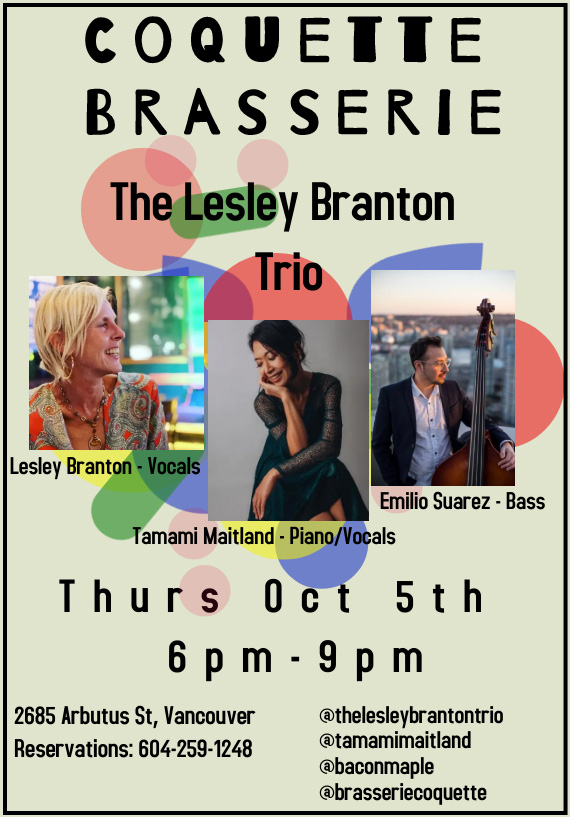 October 19: The 5 Dog Ears
5 Dog Ears is comprised of five experienced, Vancouver-based musicians with a wide range of musical backgrounds and influences.
The band plays a mixture of Jazz Standards, Swing, R & B and Blues.